Congratulations on purchasing your new Pulse-TV set-top box.
We have already pre set the box with your personal account information and subscription package from our factory. But before you are able to start enjoying our Premium TV channels and Video On Demand service, you will need to follow a few final steps to complete your set up.
The set-up diagram shows the connections needed. (Ethernet cable optional.)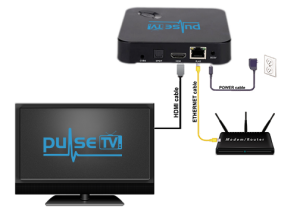 1.CABLE CONNECTIONS. Take out the included HDMI cable & insert it into the socket in the rear of the box. Insert the other end of the cable into a free HDMI socket in the rear of your TV. Now switch on your TV and make sure the input source selected (on the TV settings) is the same as the HDMI port you are using.
Take out the power adapter & connect it to the rear power socket of the box & the other end to an available wall socket. Now switch on the box (indicated with a blue light on the front) & you should see the "MBOX" loading screen on your TV.
If you don't see the loading screen then check that you have selected the correct HDMI input source on your TV.
2.INTERNET CONNECTION. After around 40 seconds the box should finish loading and you should see a "CONNECTION PROBLEM" page. Click return on the remote and then select the small settings icon at the bottom of the screen.

The final steps before you can start watching TV content is to connect the box to your high speed Internet, and adjust the screen size for your TV. On the settings screen (shown below) choose your method for connecting your box to the internet.
i.  The preferred and most stable method is to use an Ethernet cable (not included) connected between your modem/router & your set-top box. Once this is done, just tick the "Ethernet" box on the settings screen, then wait for the box to connect, that's it. You're now connected. Go to step 3
i.  If your modem/router is not located near your TV, then the second option is to connect using the boxes built in Wi-Fi. On the settings screen (shown above), Tick the Wi-Fi box then select your network name that should appear after a few seconds. Click the OK button, from the pop up box that appears enter your Wi-Fi password and click connect. (You may need to press the return button on the remote before you can access the connect button). Once the Wi-Fi is connected continue to step 3
3. SCREEN ADJUSTMENT. Navigate to the display section and choose "Display Position".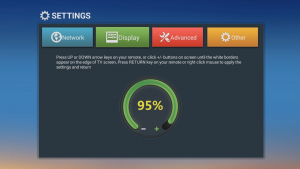 Once the screen size is correct, press the return button on the remote again until you have come out of the settings screen, then select the Pulse-TV icon.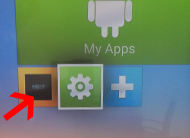 Congratulations. Your Set-Top box is now set up and ready for you to watch high quality IPTV.